Small Businesses Struggle with the Worker Shortage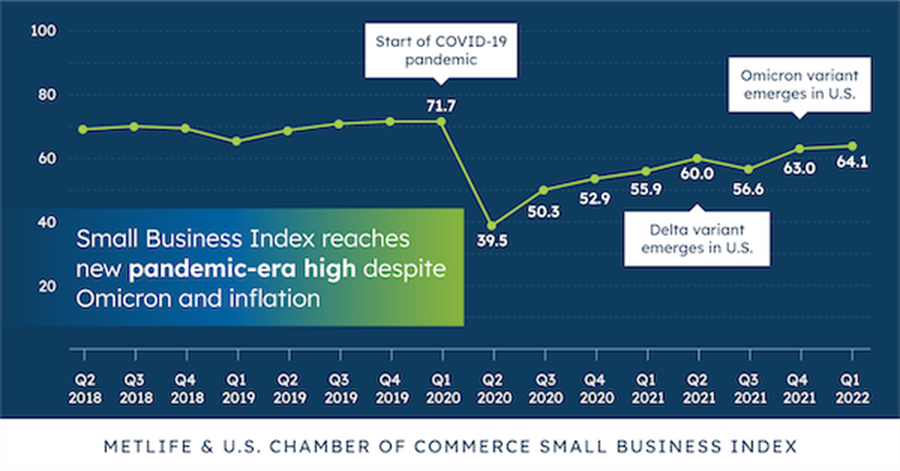 The worker shortage crisis continues to be a major issue small businesses face, according to the latest MetLife and U.S. Chamber of Commerce Small Business Index (SBI).
Why it matters: While the SBI is at its highest level since the start of the COVID-19 pandemic, with 61% saying their businesses are in good health, finding and retaining workers is a struggle.
By the numbers:
56% say they are concerned about recruiting enough new employees.
57% are concerned about employee retention.
In response, small businesses are raising wages, providing workers more schedule flexibility, and offering employees more opportunities to learn and grow.
Don't forget about inflation. As we noted earlier this month, rising prices are small businesses' top concern. One in three (33%) say it's their biggest challenge and, two-thirds (67%) have raised prices in response.
Our take: It's encouraging to see the steady rise in business confidence on Main Street, even as this latest survey was taken at the height of the Omicron wave. Inflation is top-of-mind for small businesses as it continues to limit their purchasing power, forcing small businesses to raise their prices and absorb higher costs within already thin margins.
Bottom line: The administration and Congress need to focus on easing the burden on small businesses by reducing inflationary pressures and addressing the worker shortage crisis to ensure continued recovery on Main Street.