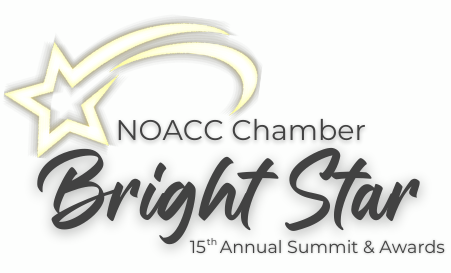 October 27, 2023
Sawmill Creek Resort, Huron, Ohio
Summit – 10:30 am – 4:30 pm
Awards – 5:30 pm -8:30 pm
Awards After-Party (Networking & Networking and Dancing) – 8:30 – 10:00 pm
Overnight Stay Discount – Brunch Included (must RVSP)
Discounts on Cedar Point Tickets Available for October 28th 
NOACC BRIGHT STAR SUMMIT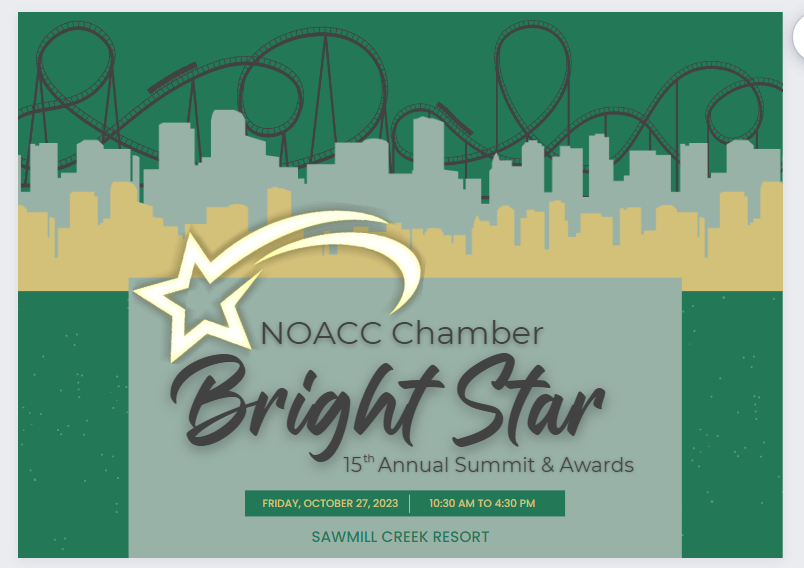 Join us for the first Bright Star Summit, held at Sawmill Creek Resort! Designed to keep Chamber leaders feeling balanced on the roller coaster of Chamber life, this half-day event includes insights on work/life balance, marketing your Chamber, navigating multiple generations, and using AI to lighten your workload.
Open to all NOACC member chamber leaders, staff and board members, let us help you enjoy the ride!
Summit Agenda
10:30 am – Registration
11:00 am – Speed Networking/Lunch
12:00 pm – Keynote Speaker – US Chamber
1:15 pm   –  Breakout Sessions
4:10 pm  –  Closing Remarks/NOACC Updates
REGISTER NOW
Early Bird – Now until July 31st – $49 per person
8/1/23 – 10/6/23 – $69 per person
NOACC BRIGHT STAR AWARDS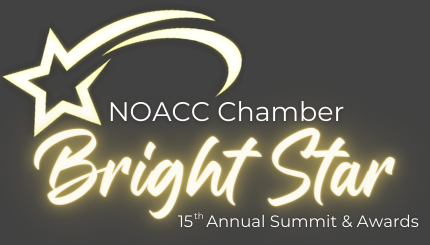 Get ready to commemorate 15 memorable years of the Bright Star Awards together with Northern Ohio Area Chambers of Commerce! To honor the hardworking volunteers, we have organized a night filled with recognition and celebration that will take place at Sawmill Creek Resort near the scenic Lake Erie shores of Huron.
Our glamorous, evening wear themed reception, is the perfect place to show off your style! Whether you're rocking classic black or shimmering with gold, we invite all you fashionistas out there to express yourselves and strut your stuff with our Black and Gold celebration theme. Whether it's a bold suit or chic dress, this special night is for adults only so let's sparkle!
At 5:30 pm, kick off the evening with a cocktail hour before settling down for dinner between 6:30 and 7:30. During the awards ceremony starting at 7:30, we will recognize and applaud talented volunteers.  The after-party networking and dancing starts at 8:30 pm.
We invite all of our Bright Star attendees to stay with us at Sawmill Creek Resort on Friday night. On Saturday morning, we will be hosting breakfast from 8-9 am. But the fun doesn't stop there! We have planned a day of adventure at Cedar Point! Discounted Cedar Point tickets will be available for purchase.
GET YOUR TICKETS NOW
Each chamber receives two complimentary tickets and each Bright Star receives two complimentary tickets.  If you did not receive your code, email Rachel@noacc.org.
NEW – CHAMBER EXECUTIVE AND
CHAMBER EVENT OF THE YEAR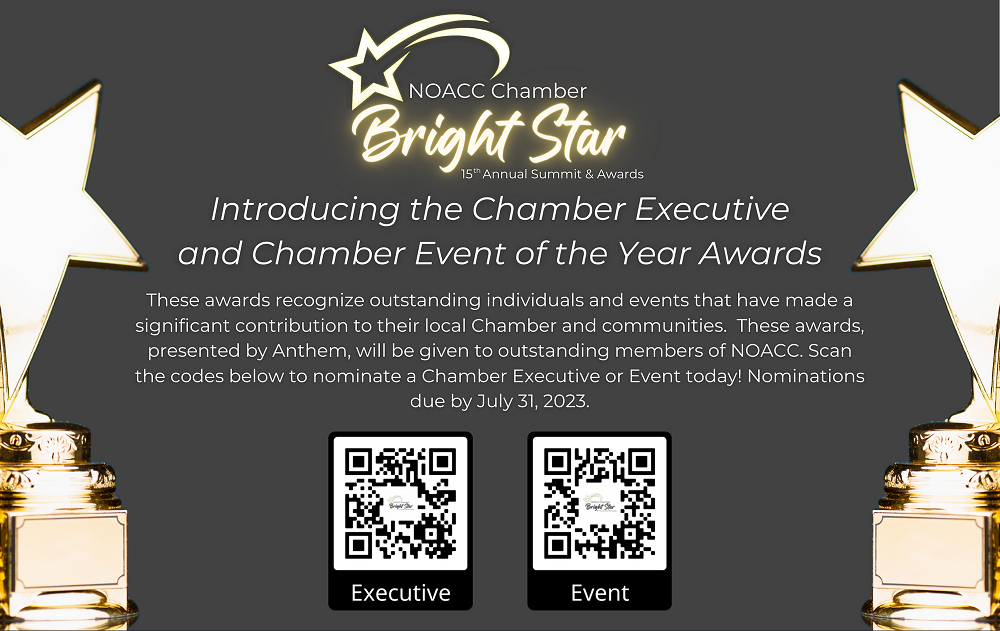 Introducing the Chamber Executive and Chamber Event of the Year Awards
These awards recognize outstanding individuals and events that have made a significant contribution to their local Chamber and communities. These awards, presented by Anthem, will be given to outstanding members of NOACC. Scan the codes above to nominate a Chamber Executive or Event today! Nominations due by July 31, 2023.