Group Health Insurance
Good News for Small Businesses in Ohio
Now you can get cost savings on your health insurance benefits usually reserved for larger companies. How? You get the purchasing power of the group insurance market through your chamber of commerce membership. PLUS, you also get access to the comprehensive care and quality providers you've come to expect.
There are two Anthem discount programs available to you through your local chamber of commerce. (More info below).
Don't let another day go by without the benefits of a quality health care plan.
How do I enroll my company? Ask your current Anthem licensed agent for a quote with your NOACC chamber membership discount. If you are not currently working with a broker, let us help you find one in your area.
Chamber Saver Program

Traditional ACA Plan

Full range of health insurance plans for small businesses with cost savings usually reserved for larger companies. Premium savings of up to 1.4% on groups from 2-50 employees. Groups from 51-500 may be eligible for a 1% premium savings. Business must be a NOACC Chamber Member.
SOCA Benefit Plan (MEWA)

Group Self-Funded Pool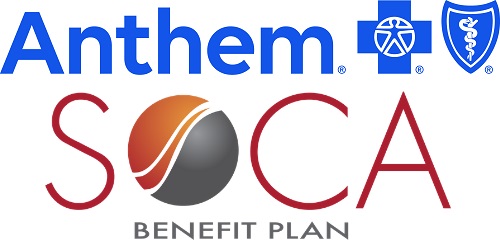 This self-funded medical offering, the SOCA Benefit Plan, is a multiple employer welfare arrangement (MEWA). MEWAs enable smaller employers to join together to share in the overall claims risk.
By being part of a larger, self-funded pool, employers have financial protection backed by Anthem's stop loss coverage.
In addition to financial protection, this innovative alternative offers:
– Competitive rates
– Fixed & predictable monthly payments
– Variety of plan designs
– Anthem's broad Blue Access PPO Network and Essential Rx Formulary
– Coverage for claims run-out / terminal liability coverage.
Informational Flyer
SOCA Benefit Plan FAQ
Sole Proprietor Information
For a free quote:
Contact your local chamber of commerce,
Contact your health insurance broker or,
Fill out the form below and a list of brokers will be provided to you